Down In The Weeds, Where The World Once Was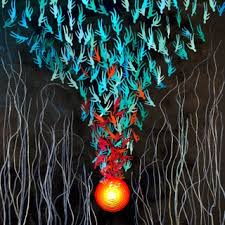 Bright Eyes were one of the most emotionally compelling and lyrically vivid acts of the 2000s, with many classic albums spawning from specifically the first half of the decade. Many people have referred to frontman Conor Oberst as the modern day Bob Dylan for his heart wrenching lyrics wrapped in subtle folk instrumentation. They were the face of indie teenage heartbreak for the decade.
After the release of the somewhat mixed bag that was 2011's "The People's Key," they went on hiatus. During most of the 2010s, Oberst spent his time collaborating with indie artists like Phoebe Bridgers and working on side projects like his emo/punk crossover Desaparecidos. Then at the end of 2019, Oberst announced the new Bright Eyes album, the first in eight years.
The lead single, "Persona Non Grata" was generally well recepted, but something was missing. As more singles rolled out it became all too clear: Conor Oberst has aged since the last album.
Bright Eyes were known for their lyrical content based around love and death in a way that only a teenager could express. Oberst started Bright Eyes at the age of 15, and the last album under the name that was seen as universally loved, "I'm Wide Awake It's Morning" was released when he was 25. 
Oberst is 40 now and he finally realized that he can't be the same emotionally wrecked kid from Omaha. The album touches into the more mature music he has made after the original run for the band, but still holds onto some staples that are required for any Bright Eyes album.
 "Pageturner's Rag" is the jumbled mess of an opener that we have come to expect, but it doesn't hold the same weight and just feels dreary. The instrumentation on this album, while more lush and sonically pleasing than ever before, keeps that more subdued mood for almost the entirety of the album. 
While a majority of the time the album feels drained, there is always the occasional break where songs like "Dance and Sing" and "Tilt a Whirl" make the album feel like it has a pulse. Besides for a few songs on the front half like the heartfelt "Mariana's Trench," the back half is where the record starts to shine. "Forced Convalescence" may be the best of the singles, and "Comet Song" is the best closer since "Cassadaga."
This record may not have the highs of an old Bright Eyes album, but it still has the heart. This is a record that can be thoroughly enjoyable, as long as you aren't expecting the old Bright Eyes and just want a nice mix of chamber pop, folk and emo to throw on once in a while. This album gets a score of six out of ten.