Meet the New Athletic Director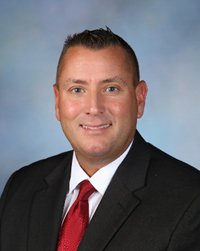 This year has come with many changes at H-F, one of those changes is a new athletic director. The school board approved a one year contract for Matthew Lyke to be Athletic Director for the 2020-2021 school year. 
Though Lyke is new to the athletic department at H-F, he is not a new face. You may have seen him in his former position last year as Activities Director. 
Lyke has been around sports his entire life. He went to Andrew High School and played baseball, football and wrestling. He even played under three high school hall of fame coaches at Andrew. 
He later moved on to college, he graduated from the University of Kansas and received a master's degree in Education Administration from St. Xavier University. 
Before coming to H-F Lyke spent 13 years working in the Lincoln Way School District 210. Before that, he taught Physical Education at T.F. South High School. He even coached college level baseball for three years.  
"I was extremely fortunate to coach many talented student athletes in my career; most notable were Pierre Thomas and Curtis Granderson," Lyke said.
Lyke coached both Thomas and Granderson while at T.F South. Thomas played football at the University of Illinois at Urbana Champaign and later played for the New Orleans Saints in the NFL. Granderson played baseball at the University of Illinois at Chicago and later played 16 seasons in the majors. 
Lyke was thrown quite a curveball coming into this new position in the midst of a pandemic. 
"It is a challenging time and [ever-changing] situation. However, we are working very hard to create positive athletic experiences for our student athletes," Lyke said. 
The athletic department along with IHSA has put into place many regulations to ensure the safety of athletes this year and Lyke is working to enforce them at the school level. 
 In accordance with IHSA, H-F has pushed the high risk sports like volleyball, football and soccer, to the winter and spring seasons and left low risk sports, like golf, swimming, tennis and cross country, for the fall. 
Though this year holds many unknowns for the new athletic director he is ready to face the challenges. 
"I am entering my seventeenth year as an athletic administrator.  I truly love my job.  I enjoy watching our kids compete," Lyke said. "One of the most important aspects of sport is how it teaches students resiliency by learning to fail.  To take that failure, learn and grow from it and bounce back even stronger is so important not only in athletics, but in the classroom, and in life."