Pushing for Proper Representation
Proper representation of African-American women is seldom seen in today's society. Thornton Fractional North head speech coach and drama director, Sade' May was tired of the underrepresentation, so she created Black Girl Chronicles: a show by black girls for black girls. 
May combined her love for the arts and background with comedy to create the concept of Black Girl Chronicles. It originated as a short film idea May created to enter a short film competition about two years ago. 
The short film later became an episode, "Perm," which has yet to be released, and the series has taken shape since then. Over time, it morphed into a transmedia project that includes the comedic web series, a blog and a podcast to include as many creatives of color as possible. 
Applications for positions were advertised on social media for black creatives that were interested in joining the show. It was promoted by many H-F students and now over 10 H-F students are involved in the production of Black Girl Chronicles. 
"I created [the show] during this time period of protest and riots because of the push for black creators and entertainment. It's very important that we have Black people both in front of and behind the camera," May said. "It is important that they hear our perspective."
Black Girl Chronicles is a comedy series about three girls, Sky, Erin and Sam that encounter the high's, lows and pressure that come with being a young African American woman in today's society. 
In every episode, there's a topic discussed from beauty standards to cultural appropriation that are often taboo topics among young Black women.  
May's sister and H-F senior Starr Hollis, who plays Sky, has been involved in this project from the start and appreciates being able to create a community for young women through the webseries. 
"There are not a wide variety of things [Black girls] can relate to on TV, and I think this web series helps a lot of girls connect and feel a part of something," Hollis said. "We [present] it in a humorous way, but we are still trying to show the heart of these issues in each episode." 
The process of creating an episode is a tedious yet rewarding process for the group. It begins in the writers' room where ideas are pitched and assigned to create a script. Once the script is complete, a shot list must be made, filming locations are solidified and costumes are chosen for the episodes, then the episode is finally filmed. 
H-F senior Adeera Harris, who plays Erin, enjoys filming episodes despite the long process.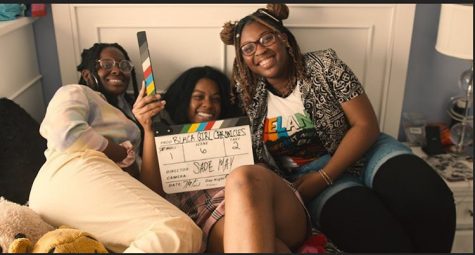 "It's a lot of fun, but sometimes, we film two episodes in a day. There's a lot of stuff that goes into [filming], but then you watch it back and it's great," Harris said. "It's all worth it. When you're doing something you love, you don't really care how much time it takes."
The entire team works tirelessly to create episodes that every viewer can relate
to. In the first season, there are 10 episodes that have aired each week since August 25. For each webseries episode, there is a corresponding podcast episode that discusses the same topic. 
H-F senior Victoria Olaleye is a podcast host for "A Black Girl Podcast." Olaleye became involved because she believes it is important for Black girls to share their opinions in an open space.
"We can show the world that Black girls have so much to offer. People forget that sometimes," Olaleye said. "Honestly, I hope that our audience, specifically young Black girls, see that someone understands what they go through and that they are not alone. We've all been there and we're pulling for you always." 
A Black Girl Podcast is available on Spotify and Apple Music. Black Girl Chronicles is available on Youtube. You can access their website at blackgirlchronicles.com and follow them on Instagram (black.girl.chronicles) and Twitter (BlackGChronicle).