Journey to We Day
Group of students volunteer to help change the world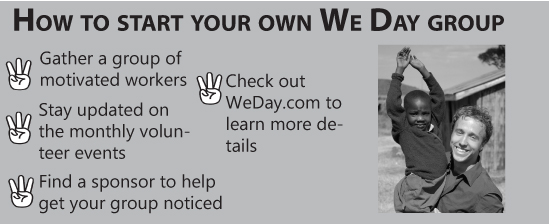 It may come as a surprise, but students are signing up to volunteer their time for a better cause, and there's also a special day planned to celebrate this.
We Day is an annual event created by Free the Children to help create awareness and raise money for the less fortunate. Young people everywhere have the opportunity to get involved; all it takes to get to We Day is the completion of one local and one global volunteer event.
There is a group of students who got together here to do volunteer work. The group is called You Matter, and they have been doing good deeds to earn their way to We Day.
Junior Destiny Watson jumped at the chance when she heard We Day was going to be in Chicago in April 2015.
"I think it's a good movement that helps change the world, and that's what I want my group and I to do," Watson said. "In our generation, people are so focused on what people think about them like what they wear, how much money they have, and we take a lot of the things we have for granted. [Our generation] doesn't focus on or try to help people who are less fortunate than us, so I decided to get involved in Free the Children's We Day act event."
She gathered together a group of more than 20 people to volunteer with her so they can all go to the event. Together they have already completed two events, but look forward to doing many more.
"In October, we did a campaign called 'We Scare Hunger' and instead of collecting candy on Halloween, our group collected non-perishable items," Watson said. "We ended up collecting a total of 358 cans, and we donated them to Respond Now in Sauk Village, which contributed to our local service."
For the group's November event, they sold 10 dollar Rafiki bracelets that were handmade in Africa. The money was then sent to five specific causes.
"It depends on the one that you buy; we sold bracelets that go towards education, income, food, water, and health," she said. "We're trying to sell as many bracelets as possible, which will contribute to our global action."
Sophomore Asia Mitchell, a student sponsor for You Matter, said the group will continue to complete volunteer events, despite the fact that they have already completed the required number.
"I definitely think our work will pay off," Mitchell said. "We've done over what's expected so we can be noticed at the event."
You Matter looks forward to being on the floor level of the event. Only selected groups get the floor level privilege, which is why the group is so excited about it.
"I'm excited to go and see how many people are trying to change the world," student sponsor NaJae Dixon said.
Dixon also said she loves the idea of We Day and that she can't wait to see the outcome of the event.
Since We Day is in April of 2015, there is still plenty of time for anyone who wants to go to complete two volunteer events.
"I think people should try to get involved in any type of We Day event that you can because it's for a really good cause and its actually really fun," Mitchell said.