Kid Cudi and His Final Journey to the Moon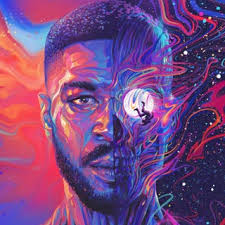 Cleveland's very own alternative rap superstar Kid Cudi returns with his final installment in the iconic "Man on the Moon" trilogy, with his seventh album "Man on the Moon III: The Chosen." Cudi seems to deliver the ending all his die-hard fans have been waiting for to this decades-spanning trilogy. 
Since emerging in the early late 2000s, as an early "emo rap" pioneer, Cudi has seen quite the amount of changes over the years. From starting off working in a grocery store and meeting a young Kanye West by coincidence and striking a friendship and earning a place as one of Kanye's muses for "808s and Heartbreak," to starring in films and television shows like "Entourage" and "We Are Who We Are," and modeling for Louis Vuitton in his spare time, Scott Mescudi is quite literally everywhere despite bouts with depression and repeated drug abuse. 
Since dropping the very first Man on the Moon back in 2009, Cudi has amassed a cult following that refuses to give up on Cudi and support whatever he does. Most of this plays into the "I am your big brother" role that Cudi plays in so many of the world's youth's lives, as being one of the first rappers to actively rap about his mental state and letting people know it's okay to not be okay. 
To this day Cudi is heralded by so many in the rap community as one of the most inspirational and influential rappers of this generation. Just over the past couple of years, many have probably heard the phrase "Kid Cudi saved my life" from artists like Travis Scott (who also fun fact took the "Scott" in his name from Kid Cudi's real name, "Scott Mescudi"), and Brockhampton's Kevin Abstract,  among many others more times then they can count. 
Therefore, to even get into a review like "Man on the Moon III," it's so important to talk about its two predecessors that made him into the man he is today, as they play such a big role in the conceptual story that Cudi has created in his latest album. 
When Kid Cudi busted onto the scene back in the early 2000s, his oxymoronic beat choices and subject matter caught audiences off guard and in turn lured them in. Back then, for someone to openly talk about the mental struggles they were going through from losing their father at an early age and watching his family struggle in his absence and his struggle in turn, was incredibly jarring. When Cudi made sure he'd pick the lightest and bubbly beats to turn his pain into happiness, people were captivated, but they still didn't understand that Cudi was in desperate need of an outlet of help. As even back then he was exhibiting depressive behaviors from his extreme ostracization from the people closest to him to his manic depressive episodes he would sometimes have publicly. 
This led to his second installment in "Man on the Moon II," where fans saw Cudi at one of his darkest spaces mentally. In which we see Cudi partaking in all sorts of drugs including cocaine, and also openly contemplating suicide. It's here we are ultimately introduced to the iconic "Mr. Rager" Cudi's darker alter ego, who comes out when he partakes in his inner vices. And we really see Cudi going on a steady downward spiral. 
However, after a stint in rehab for addiction, suicidal thoughts, depression, and anxiety, Cudi seemed to be noticeably happier on his 6th studio album "Passion, Pain, and Demon Slaying." And naturally, most people thought that Cudi was done with "Mr. Rager" and was finally on the right track. 
Of course, no one expected a third installment either. That is until Cudi began recording songs with Travis Scott for their upcoming album, "The Scotts" and his new tv show's soundtrack "Entergalatic," that Cudi realized that some of these songs sounded like a "Man on the Moon" album more than anything else, which resulted in the release of "Man on the Moon III: The Chosen." 
Going into this project, Cudi stated that Travis Scott had been an underlying influence in this recent project. This sent the internet into spirals as Travis's Kid Cudi superfan status had somehow turned into him influencing his favorite artist's last project in his most iconic series. This is what most people dream would come true for themselves. 
Naturally, when the tracklist was uploaded and it was divided by the four acts, the internet went nuts. Conceptually, Cudi delivered one of his most complete projects in years. Earning a No. 2 first week debut on the Billboard Hot Charts only behind Taylor Swift's surprise album that also dropped that week. 
Starting off with "Act 1: Return 2 Madness", we see Cudi start to revert back to his old self and starts realizing that the path he is on is a direct path to reverting back into the old Mr. Rager we were introduced to in "Man on the Moon II." With the opener "Tequila Shots" we actually see that Cudi has definitely changed a lot since the last "Man on the Moon," as 10 years ago, Cudi would've never rapped over something like this, but at the same time we see he's also having similar emotions as the emotions he displayed on the previous "Man on the Moons." 
While on the other side of the same coin I should also point out that including the producers that made Cudi who he is today from Dot Da Genius, Plain Pat and even to the legendary Mike Dean was a great stylistic choice as everything sounds cohesive and flows similarly to the other installments yet also has a high-class expensive touch as over the years they've only become greater producers. 
The later songs in the first act also accurately set up the first part of the story, as it paints a rather vivid picture of Cudi partying the night away, even though he realizes that the stuff he is doing probably won't lead him to anywhere good.
This results in the resurgence of Mr. Rager in the second act, "Act II: The Rager, The Menace" in which we see Cudi's tone shift dramatically as it's much more confident, self-serving, and honestly just a complete 360 from Cudi's light and bubbly personality. And naturally, the music reflects this darkness, as it's much more hard-hitting, and Cudi's rapping is much more concise and sharp-tongued than the first act which reflected Cudi's fall or relapse into Mr. Rager. 
Yet, it occurs to Cudi that nothing good happens when Mr. Rager comes out so he leaves the party after the hard-hitting "Show Out" featuring Pop Smoke and Skepta (who also may have given one of the best rap verses of the year on the aforementioned track), so we see a now wasted Cudi stumble out onto the street and attempts to find himself while he comes down on the last song of the Act in "Solo Dolo Pt. III."
In turn creating an atmosphere of someone lost at night, after a long night of partying attempting to reconcile with their mistakes and find their way home, which honestly would fit perfectly in a series like "Euphoria" when we see Rue having a withdrawal episode. 
But by the start of  "Act III: Heart of Rose Gold" we see Cudi come back to his senses and realizes that everything is going to be okay. And this is also where the audience can see the most old school Cudi tracks in fan favorites like "Elsie's Baby Boy" and "Loving Me" featuring Phoebe Bridgers (who gave a compelling performance in her own right). 
However, the real standout of this Act is by far "The Void", where Cudi gave the world one of the best anthems to sing or cry their hearts out at his festival or Concert sets for years to come. "I will fall in the void, fall in the void, just to avoid anything that can bring me down or **** with my flow" is something so catchy that by the first time you hear it during the chorus, by the second time the chorus comes up you put your whole heart into it.
And as a whole, the song serves itself as a song to remind everyone that nothing can truly bring you down, as everything will be okay, and Cudi himself even tells you on the outro "It's gon be okay, I promise you," and ultimately Cudi created one of the most memorable and impactful songs of his career over those five minutes.
Then finally "Act IV: Powers," serves as the proper ending to a great conceptual trilogy. And successfully closes out one of Cudi's most commercially successful albums to date in his own fashion, by throwing in a couple of songs to show Cudi's range as an artist and to remind people to just have fun in life.  
Now, although I believe that this is definitely one of Cudi's best put together albums, it is definitely not without fault. As, I believe the Travis Scott influence is really a hit or miss, as just how Travis basically made his career improving a lot of Cudi's stylistic elements and attempting to make them his own, and occasionally misses, the same happened to Cudi here on this project, as although the subject matter is authentically Cudi, some songs like another day, could definitely be put to better use by Travis. 
Some songs just fall flat like "damaged," while others sounded like they could have been put to better use on other Cudi projects.  But I do think it's important to note the tremendous growth Cudi has showcased and to even drop a successor to an album that dropped a decade ago is a bold move in itself. And it more or less works out for Cudi, as it shows that Cudi despite his numerous career ventures his music has not grown stagnant, and he's managed to hold relevance even among a newer generation who may not have grown up exposed to Cudi's unique take on the rap world.
Naturally, some people wonder if we really needed this project after decades from its predecessor, and for the die-hard Cudi fans I'd result with a resounding "Yes." as this was the perfect ending to such an acclaimed series, and even in the broader sense it also was extremely successful in introducing a whole new legion of ragers to the legend that is Mr. Rager. 
So, who knows maybe in the next couple of years we might have someone else that can take what Cudi started and stands for and turn in it into something new, and take on the role of "big brother" to the youth like Cudi did during the blog years of hip hop. And even make it the point that hip hop doesn't need characters like Mr. Rager, to showcase the mental vulnerability that plagues so many.