Playboi Carti's Imperfect Masterpiece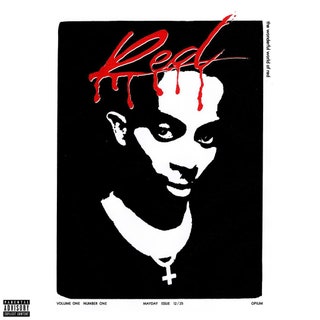 Atlanta's very own punk-rock vampire and contemporary rapper Playboi Carti is back with his sophomore album "Whole Lotta Red." It was one of the most anticipated album releases of the past couple of years, Carti delivers his most experimental project yet.
Jordan Carter otherwise known as Playboi Carti has dominated the post-blog era of rap, becoming one of rap's most in-demand headline performers due to his heavy punk rock-inspired sets. With his bold and refreshing minimalist, non-lyrical take on rapping, Carti has become a household name in the rap community. 
After ruling the underground SoundCloud scene of rap for years in 2016 and linking up and eventually signing to A$AP Rocky's creative collective "AWGE," Carti released his self-titled project which effectively polarized the rap community over what could actually be considered rap. Yet, despite heavy criticism from rap critics like Anthony Fantano and Shawn Cee, Carti continues to reinvent himself each project. 
On his 2018 outing "Die Lit," we saw the invention of baby voice Carti which was one of his first experimentations with different vocal tones. The vocal changes came about his slurring of words and changing his vocal tone in a way that almost resembles a prepubescent child crooning.  For many today, "Die Lit" is their favorite and most appreciated Carti project, due to the fun vibes and careless attitude that Carti created on it. 
However, "Whole Lotta Red" is nothing like its predecessor. Since isolating himself on social media, only providing a few public appearances and a couple of guest verses on high-profile artists like Tyler, The Creator, and Drake, the off period between "Die Lit" and "Whole Lotta Red" left much to be desired from his young fan base. Fans, in their drought of Carti music, began trading Carti leaks like they were scarce economic assets, only continuing to push back Carti's project even further. 
Also, during the period between his two albums, when Carti did make public appearances, as he occasionally models for designers in his off time, we saw Carti begin to sink into a new light fashionwise. As back when Carti was one of the reigning kings of SoundCloud, it wasn't all too uncommon to see him rocking rare staple streetwear pieces like vintage Bape, Supreme, Off-White, Heron Preston, or Gosha Rubchinskiy, he started trading them all in for more gothic-inspired clothes, like Raf Simons, Rick Owens, Acronym, Alyx and Givenchy. Carti eerily started to become an almost inhuman figure and was almost vampiric in his image. 
Naturally, when Carti got around to creating hype around his album, in signature fashion, he first put out a merch collection designed by Matthew Williams (creative director of Givenchy, Alyx, and close friend of Carti) before even announcing a date for his album. Of course, the pieces came out to be borderline antichrist-like to match with his new vampire image.  From upside-down crosses to the demonic imagery, it was incredibly easy to see where this album was headed from a creative standpoint. 
This led to the real kicker that the project would drop on Christmas Eve and that Kanye West and Matthew Williams would be co-executive producers of this effort.  This caused the internet's more conservative listeners to say that this was a blasphemous effort and that Kanye, a now prominent figure in the gospel and church scene, was supporting this effort was disheartening. Which created a little bit of controversy even before the album dropped. Finally, Carti dropped the cover art which was very reminiscent of 70s punk rock magazine "Slash." This signified to his fanbase that they were going to get the punk rock Carti that they enjoyed from "Die Lit" standouts like "R.I.P." 
Going into the 24 track album with the first track "Rockstar Made," Carti shows right off the bat that this isn't going to be like the rest of his projects. The blaring baselines, that old school screamo bands would approve of, set the tone for the first half of the album. Of course, following such an explosive high-energy track like "Rockstar Made," we see Carti continue to carry off that momentum and dive straight in with "Go2DaMoon" featuring Kanye West, where we see one of Kanye's most impassioned non-gospel rap verses in years.  We also see the start of interesting/experimental beat choices that are heavily prevalent throughout the album.

Songs like "Stop Breathing" and "Beno!" continue the onslaught of high octane songs, and create an atmosphere where you can visually see Carti commanding crowds to open mosh pits and lose their minds, and we also see some of Carti's first vocal experimentation on this project. As he is screaming so hard sometimes that throughout the album that you can easily hear the strain in his voice, and also hear the wild emotions behind what he's saying. Considering that Carti's music is more centered around the mood he creates with his sounds and words, rather than being lyrical or witty like other mainstream rappers, it's really important to pay attention to these subtle vocal changes.  
 Then, we come to the real hit or miss section of the album at "Metamorphosis" featuring Kid Cudi. Admittedly although this song arguably has the most interesting instrumental out of everything on this project as Kid Cudi's hums are placed over the 808s which creates an atmospheric effect, the actual song is far too long with nothing really being added from Carti or Cudi that this ultimately falls short after 30 seconds in. Then of course the certifiable duds like "No Sl33p" and "Meh" come in. 
However, with "Vamp Anthem" signifying the start of the second half of the album, we see an increase in more melodic songs that are generally calmer in nature and also in a way a bit more entertaining and pleasing to listen to than the first half's "hard as nails" approach. The second half is filled with great quality songs such as "New N3on," "On That Time," "King Vamp" and "Place."  Until we get to the undeniable hit of the album "Sky" which is one of the best songs Carti has made in a long time, as it has all the qualifications of a  hit, as it's very melodic, catchy and the beat also makes it very atmospheric which plays out perfectly with the subject matter of the song. 
This ties into one of the better qualities of this album. As this is the most emotive and expressive I've heard Carti rap in years. And despite the beat choices on songs like "Sky" and "Over" he seems to have been going through legitimate fidelity and family issues, and in turn seems to be going through depressive fits. And we see the nihilistic view of Carti take hold when we see him both glorify drug use and also talk down about women as a whole in the same lines, as he believes all women will ever do is hurt him. 
And on "F33l Lik3 Dyin" (Which also features a beautiful Bon Iver sample which doesn't get talked about nearly enough) he "feels like dying if you're not mine" in some cases and naturally this ties into Carti's drug use as well, as when he feels like he isn't loved he goes back to sipping promethazine among other drugs to better encapsulate his problems. 
Which in turn also highlights the sadder aspect of Carti's life, as he is willing to admit that though doing drugs is killing him, continuing to do them would be easier than dealing with his emotions head-on.
Therefore, despite the massive outpouring of hate that Carti first received when he dropped this album, and the polarizing effect it's had on the Carti fanbase, I actually believe that Carti is ahead of his time. Even though I don't believe this is a better album than "Die Lit," I think this album will pave the road for Rap to reinvent itself. The people that went into this expecting it to sound like a Die Lit 2 were wrong for going in with preconceived ideas of what this album was going to be. 
"Whole Lotta Red" is very much its own album and quite honestly nothing sounds like it. From the blaring moshpit inducing screamo/metal beats to the subtle avant pop beats that run rampant, on such tracks like "Teen X",  make this project very memorable.  And at the hands of producers like Pi'erre Bourne, Maaly Raw, Wheezy, F1lthy, and Richie Souf among others, to Carti's vocal demonstration and song structure, there's nothing quite like it and in turn, I also think you can't hold it to regular judgments as it doesn't sound like any one particular genre. 
To cap it all off despite the numerous delays in the rollout of the album due to leaking scandal after leaking scandal (which did however give us gems like "Kid Cudi"). Carti somehow managed to throw together a concept album in such a short window of time, that he should be applauded for the work that he put in. 
Ultimately, I think this album is actually very reminiscent of Kanye West's "Yeezus" project which also received an unwarranted amount of hate when it first dropped considering it was so different and abstract compared to rap's standards of the time. Yet not here we are almost a decade down the road, and people rave over Yeezus as being ahead of its time. 
Therefore, I think the same will happen with Carti and this project, as it ultimately gets better each listen, and in the next decade or so I believe that mainstream America will also come around to appreciate the gems that Carti gave us on this project.  quite literally Rap's first punk rock album, with a minimalist take on it, so in some years I believe that we will undoubtedly see people's perception of this album change, and who knows maybe it will even be heralded as Carti's best work.