Enthusiasm and COVID Hit the Field
Being an athlete during a normal season is one thing. The incredible amount of effort, determination, pressure, weekly games and daily practices can really be tough on some students.
Being an athlete during COVID is another. Between the mask mandates, social distancing during sometimes impossible circumstances and constantly having to sanitize equipment, being an athlete this season is ten times more stressful.
Regardless of those struggles, H-F fall athletes are finally able to participate in their regularly scheduled sporting events. The players this season have been anxiously awaiting to get back out there, and now they finally can!
Though COVID might not have as much of a hold on the sports this year, it is still necessary to take safety precautions, as the virus is still very prevalent. The athletes are eager to be playing sports again.
COVID restrictions were much more strict last year, but it appears that some sports were still able to go on very briefly, according to sophomore volleyball player Danielle Brooms. 
"I was in the sport, but it was in March and April and we only played like nine games instead of the usual thirty," Brooms said.
The cheer team took advantage of going virtual last season. 
"I was in it last year, but for cheer competitions it was all online," sophomore cheerleader Sani Zinnerman said. "We had to compete without audiences, and it was all basketball games I think."
Since the seasons were shortened, there was less practice time and there were less games, it gave players less time to improve, socialize and really work together. This year, they have the chance to do so.
"It feels good. It feels like actually being in high school," Zinnerman said.
I'm sure that this is a quote most highschool students can relate to this year since it's been over a year since we've experienced normalcy in school. Though they might not seem too important, participating in clubs, athletics and going to games are a huge part of the typical high school experience. 
While wearing masks and attempting to social distance as much as possible are still precautions taken by the sports teams, there are still multiple other safety precautions made to keep the athletes as safe as possible.
"There are still a few restrictions on our sports, the main one being the limited amount of people at games now," junior dancer Nicole Peterson said. "Since we are outside we're able to take off our masks while performing which makes it easier." 
Playing sports requires a lot of exercising and physical activity, so having to wear masks is very tough on the athletes; especially when indoors.
Staying safe is obviously something that is a main priority. As football is a high contact sport, some players might not exactly feel comfortable. 
"I feel 90% safe pretty much, but in the back of my head when I'm playing I'm thinking this kid could have COVID, but I try not to think about it that much like that," sophomore football player Jovan Plaxico said.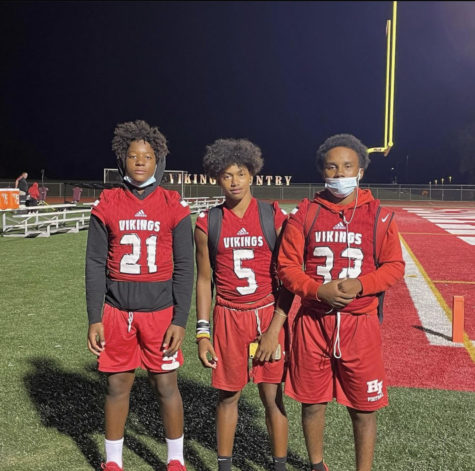 Other sports, such as golf are easier to social distance in, giving participants the chance to feel more safe.
"I do feel safe while playing because we are outside and not too close together," junior girls golf player Georgia Mott said.
Though sports might not be completely normal this year, H-F continues to inch closer and closer to normalcy. We are eager to see how the fall sports teams do, and wish them luck.