Halloween Costumes Over the Decades
Halloween is a unique time of year.  Kids stand in the crisp autumn air carrying bags, buckets, and pumpkins of candy.  Meanwhile, teens and adults may bob for apples at a Halloween party.
However, it wasn't always like this. Trick-or-Treating didn't start until the 1930's when homeowners decided to bribe neighborhood children with treats to prevent them from vandalizing their property, and bobbing for apples began as a British courting ritual. 
Halloween costumes, like other traditions surrounding the holiday, have changed over time.  From devils and witches to Lady Gaga and Star Wars, what decade you celebrate Halloween has a great impact on what costume you choose to wear.   That being said, here are some popular Halloween costumes throughout the decades.
1950's
Halloween costumes often draw from pop culture, and in the 50's Hollywood loved westerns.  "Traditional" costumes such as ghosts, skeletons, devils, witches, mummies, Frankenstein, and Dracula were very popular.  Cowboys were also a common costume because of the popularity of westerns.  Additionally, most costumes were handmade despite store-bought costumes being available.
1960's
H-F Librarian, Teresa Bagatella, Trick-or-Treated in the late 60's and early 70's and remembers most costumes being store-bought from Sears and Kmart, although she had some friends with handmade costumes.  
"During my time it was more of store-bought costumes, but there were friends that did have handmade costumes, but most youth would wear the box, plastic costumes that were bought in the stores," Bagatella described.  "That's what you would see when you would go out trick-or-treating."  
Bagatella added that pop culture did not have much influence on Halloween costumes then.
"Most costumes back then were the plastic face mask with the plastic body costume, and it was just your typical costumes like Frankenstein, a princess, a pumpkin, Dracula.  As the later years came on, pop culture influenced other different kinds of costumes," said Bagatella.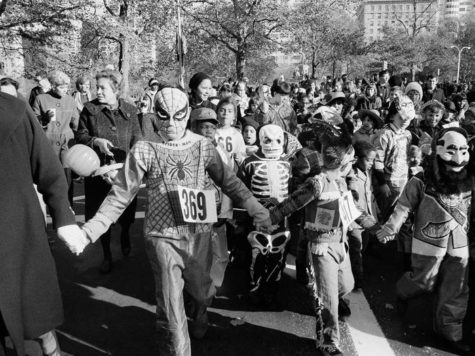 1970's
Store-bought costumes continued to be popular and were similar to those of the 60's.  They were all made of plastic and came with a plastic mask. However, in 1977, the first of many Star Wars movies was released.  An abundance of people chose to dress as their favorite Star Wars characters, a costume that has maintained its popularity.  Luke Skywalker, Princess Leia, and Darth Vader were some of the most popular Star Wars costumes.
Bagatella said that there still weren't many costumes relating to pop culture like there are today, although her favorite costume from her childhood did draw from pop culture, as it was Casper the Friendly Ghost.  
According to The New York Times, "Ben Cooper Inc. was founded in 1937 by the brothers Ben and Nat Cooper…When it came to Halloween, their specialty was pop culture. As comic books, cartoons and television took off, the Coopers began buying up the rights to characters like Sleeping Beauty and Davy Crockett and turning them into plastic masks."
Costumes relating to pop culture were not particularly popular when Ben Cooper Inc. began to manufacture them, although in the 70's and 80's their pop culture-related costumes began to become more relevant, but still not nearly as much as they are today.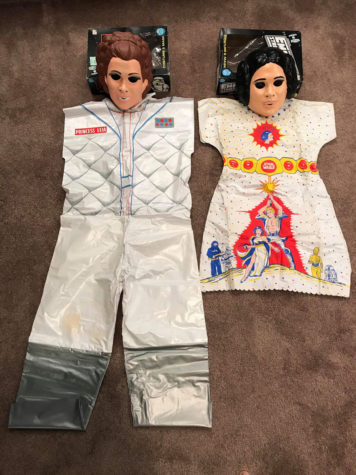 1980's
Orchestra teacher, BJ Engrav, Trick-or-Treated in the 80's and 90's and recalls some popular costumes from the time.
"I remember Transformers, Teenage Mutant Ninja Turtles, Star Wars during that time, as well as the Jason mask from Friday the 13th," said Engrav.  He added that the Nightmare on Elm Street and Michael Myers were popular costumes at the time.
In the 80's, pop culture costumes became even more common as older teens and adults decided to join in on the festivities.  Costumes also began to look more frightening in the 80's, according to The New York Times. 
"The boom of science fiction and horror, led by films such as John Carpenter's 'Halloween,' spawned a wide array of disguises that were inappropriate for kids but great for adults." said the author of the article "Your Halloween Costumes Expires Sooner Than You Think", Jennifer Harlan.
Author of five books on the history of Halloween, Lesley Bannatyne, said in an interview with The New York Times that this influenced the participation of people of different ages in dressing up.
"Halloween had been spooky and eerie but not gory or scary until that movie,"  Bannatyne said. "That brought older teens and adults in on the holiday."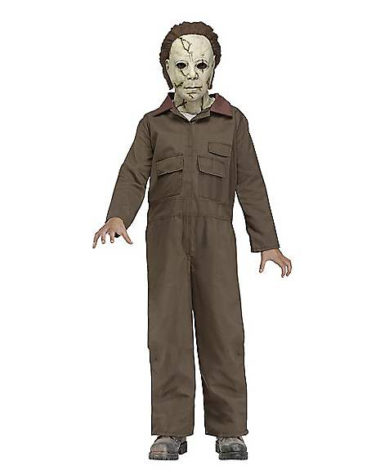 1990's
Social Science Teacher, Allison Farkos, trick-or-treated in the 90's and early 2000's, and noticed some common costumes.  
"In the 90s I would say anything Winnie the Pooh (for kids) was super popular," Farkos said.  "For older kids or adults, it was the traditional costumes, like Michael Meyers, Vampires, Witches, Scream-any original scary movie!"  
Engrav agreed that Scream was a popular costume in the mid to late 90's as well.
All of her costumes as a child were handmade by her mom and grandma, and her favorite costumes were from when she was little.  Handmade costumes like the ones she wore are much less common now, as most costumes now are store-bought.
 "My mom made me a Little Mermaid Costume when I was in third grade and I remember the tail was made of over a 1,000 sequins and it was so cool," Farkos enthusiastically described.  "I was also a witch the next year in fifth grade and my mom stitched together an old dress with a dress from a second hand store and it was my favorite dress." Farkos added.
The company mentioned before, Ben Cooper Inc., was bought by Rubie's Costume Company in 1992, which is, according to their website, "the largest designer, manufacturer and distributor of Halloween costumes and accessories in the world".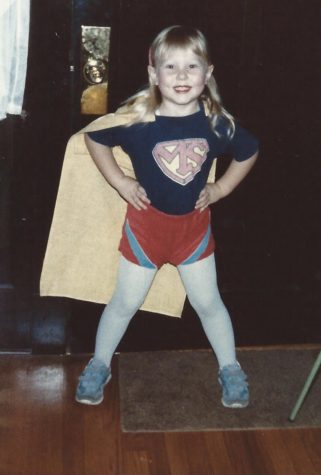 2000's
Farkos said that "traditional costumes" were just as popular in the early 2000's for adults and older kids, but adds that some popular costumes for younger kids were the Wild Thornberrys and Blues Clues.  She also said that many costumes were handmade then, but noticed a large increase in commercially-made Halloween costumes from 2010 to now.   
According to the National Retail Federation, "More costumes than ever will be flying off the shelves as Americans gear up to celebrate the spookiest holiday of the year, according to NRF's Halloween Consumer Spending Survey conducted by Prosper Insights & Analytics.  More than two-thirds (67.4%) of celebrants will buy Halloween costumes for the holiday, the most in the survey's 11-year history."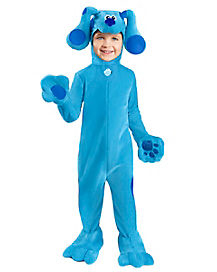 2010's
At this point, most costumes were store-bought, and most people buy their costumes from Party City.  Party City released its 2010 costume trends, and the number-one was a modern-day vampire.  
The next most-popular costumes were 80's comebacks, Jersey Shore cast members, Greek Goddesses, Lady Gaga and Blockbuster-inspired costumes such as characters from Iron Man, Avatar, Toy Story and Alice in Wonderland.  Google also revealed the most-searched Halloween costumes for 2015, which were Harley Quinn, Minions, Katniss Everdeen, Catwoman, Star Wars, Superheroes, Angry Birds and pirates.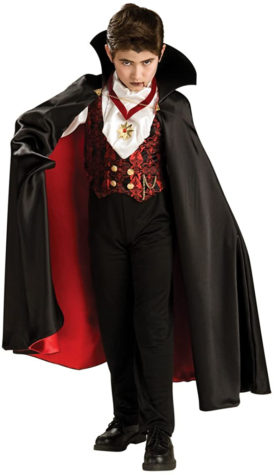 Now
Store-bought costumes are more common now than ever, with most people choosing Party City, Spirit Halloween, or Amazon to buy their costumes. Google's most-searched Halloween costume for 2020 is witches, followed by dinosaurs and Harley Quinn.  The National Retail Federation has similar results, with the most popular adult costumes being witches, vampires, and ghosts, and the most popular children's costume being Spiderman, princesses, and Batman.  
Social media also has an impact on how people may come up with their costume ideas.  According to a National Retail Federation survey, 34.2% of Americans look for costumes online, with 11.4% Americans looking for costume inspiration and ideas on Pinterest.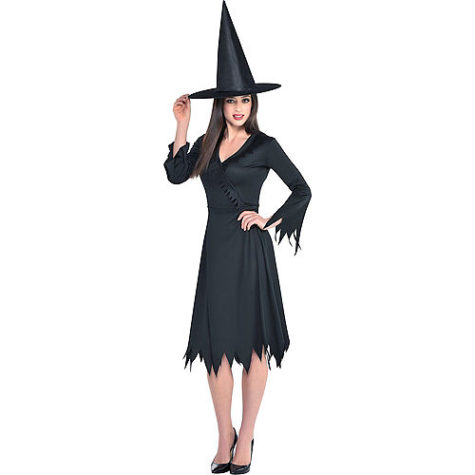 With all this said, it seems that what people wear to Halloween parties or to go Trick-or-Treating hasn't changed as drastically as some other festivities, as it seems to have remained a mix of timeless, "classic" costumes and timely, "pop-culture" costumes with a fluctuating ratio between the two.  So, now that you know what your parents and grandparents may have worn on Halloween when they were kids, what will you be wearing this year?