The Hidden Stars Of The Theater: Stage Crew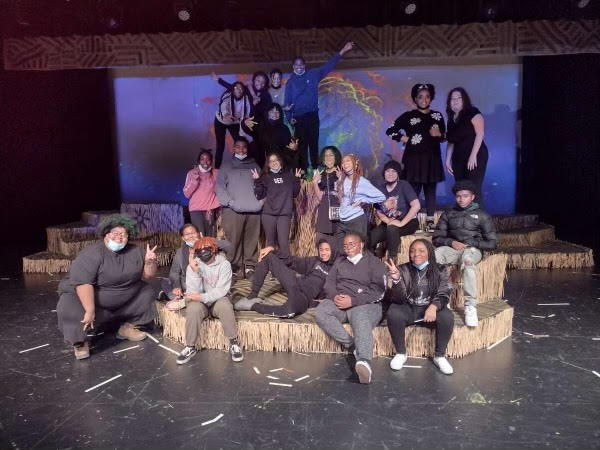 As we all know, the H-F Theater Department creates some fantastic shows. From "The Lion King" to "Mamma Mia", the theater department certainly takes on classics and challenges. 
But time and time again we forget to give our praises to the stars that made the show happen, those behind the scenes. Yes, the cast gets praised for their performances, but the stars I'm talking about are the crew. 
These hidden stars are the ones behind all the lights, sounds, stage set-up, tickets, costumes and props. The crew has to make sure they meet every queue, correctly placing everything in its correct spot in a very short amount of time.  Without them, the show wouldn't be as entertaining as it is. 
"Our [stage crew] work-days consist of us building, painting, getting costumes and getting everything organized for the week of the play." stated crew member Skylar Porter-Hill. "We usually have one month to prepare before our next show, and the rehearsals run from 5:30-9, but on tech week it's three days where we're working from 3:30-9, and that's when we finally work with the cast, trying to clean up everything we can before the show." 
However, Porter-Hill doesn't believe the work to be the finishing product itself but the amazing dynamic the group has. 
"The best part about the crew is the friends you make in there; it becomes a safe space for you to really be yourself." And just like all good groups, they come with their difficulties. 
"During Lion King, we had instances when we set up the wrong set for a scene, but we quickly fixed our actions and came back twice as hard in the next scene," she says.
These moments are truly important for the group, as building sets aren't only restricted to the stage. 
"We will be doing 'Group Interpretation' soon, where we go to Thorton and the judges have the pieces there for us to build a mini-platform and then take it down in a certain amount of time." 
Stage crew is a great and fun group to join, especially if you love the aspect of the theater but don't want to be the one performing on the stage. 
If you're interested in joining you can still join by signing up for 'Technical Crew New Faces' on 8to18.