A Day In The Life Of The Auto-Club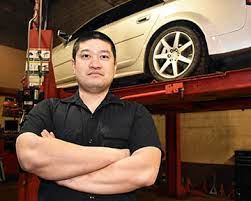 The heavy, thick smell of gasoline filled the air as I walked into the auto room. There were students engaged in all types of tinkering projects. You could hear the sound of tools being used, the intellectual conversation and laughter shared between students, truly, it was something to see. 
Going deeper into the room I saw several cars of all different types and sizes. I felt as if I had walked into a professional auto body garage or a mechanics shop.
It surprised me to see all of these things in the back of my own school. I had no idea there was anything near this great at H-F. "How many people know about this?" I thought. Did you know there was an Auto Club at H-F? Is the Auto Club worth knowing about? I went to the school website to find out.
"This club is designed to promote professionalism in automotive technology. It is open to students enrolled in the Automotive Service classes and Automotive Technology program." That's what their team stats say on the official website. However, Benjamin May, the executive sponsor, says "Ten percent of what we do is fixing the car, but most of the time we are sharing knowledge and building bonds – you need zero experience to join our Auto Club." 
The H-F Auto Club isn't something a lot of people know about, so is it worth learning about? Surrounding the Auto Club are so many exciting things. The club has had multiple first-place finishes both in the classroom and in the field. May has been the executive sponsor of the Auto Club for seven years, leading them to many victories along the way. In 2018 they rebuilt a 1997 Mustang racer that competed four times that year at Byron Dragway, and in 2019 they made track champions. 
May's accomplishments go beyond the track and the tools as well. He has had multiple past students of his go on to be successful In the automotive field  Eric Ray was a student who worked on the 1997 Mustang. Ray attended SIU to get his four-year degree in automotive technology. However, Ray isn't the only one to continue his automotive path. Junior Edward Szczender said, "After high school, I would like to apply my knowledge of cars to UTI or a state program." 
"Auto Club has lots of depth. It's like owning a business. You have to plan what parts you're going to buy and when, you also have to know when to meet, where, and how much work to fit into that meeting" says Szczender. "Auto Club has helped me get out of my shell and socialize with people better." All of these things are a result of the work that gets done in the auto room. 
The shared interest in cars or even just specific inner or outer workings of one has brought many H-F students together. By working together the Auto Club has formed a community, a system of like-minded friends, a space of open minds, and altogether an opportunity to thrive in automotive skills. Auto Club is truly something to admire. 
If you are now interested in the workings of the auto club this upcoming statement is for you. Next Monday the auto club meeting will be based on a detailing practice lab for student jobs. Now that you know the basics of the automotive club, maybe you will invest some time into it in the future.