H-F debater argues her way to the top
Junior Peyton Jackson excels at State and takes 5th place.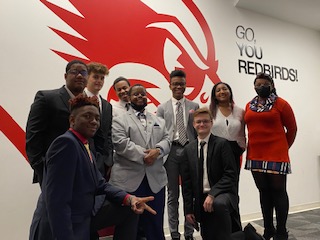 Over the weekend of March 18-20, H-F's Debate team, coached by English and Reading teacher Katie Cole and History and Special Education teacher Emily Carroll, went down to Illinois State University for the IHSA State Finals.
Overall, H-F did very well, with seniors David Gibek and Khalil Spight going 6-4 in Public Forum Debate and narrowly missing the Octafinals elimination rounds by only 5 points and sophomore Kevin Gibek going 7-3 and missing the Quarterfinals elimination round by only 3 points.
However, H-F junior Peyton Jackson stood out and did exceptionally well.
 Jackson went 9-1 in the preliminary rounds and was the top seed at the tournament.  She also lost a tough Quarterfinals round and finished the State tournament in 5th place, as well as being named to the All-State Team and the second speaker in the State competition.
While the concept of debating sounds simple, anyone who's ever been on a debate team can promise you it's not, and that it takes a considerable amount of time to perfect.
"I've been in debate since my freshman year and I plan to continue until I'm in college!" Jackson said. "When I was in middle school I was on the speech team, but debate was always my goal and it was the first thing I joined when I entered H-F."
In addition to having prior years of experience, many hours of work are put in during the school year as well.
According to Jackson, "You have to be able to dedicate some free time to the writing of cases, which depending on the type of writer you are, can take a wide range of time. There are three meetings a week, though you'll probably only attend two, and in those, you'll get plenty of help with writing. It's also a dedication to your teammates, to be willing to practice and get better and to travel all around Illinois, and occasionally other states, to hone your skills."
In addition to this, Cole felt that "it is what you put into it. There is no minimum or maximum."
In addition to being a gifted debater, Jackson is also "a wildcard. She is super knowledgeable, she gets along well with her teammates, she's incredibly funny and is just a fun person to be around," said Cole.
Skilled debater Jackson has a big future, the ability to debate her way to the top and the makings of a talented lawyer.