Local small businesses handling COVID-19
The pandemic has had a significant impact on seemingly every part of society, but especially on small businesses, and those in the H-F area are no exception.  The owners of LouLou Belle and Redbird Cafe shared about their businesses and how the pandemic impacted them.
LouLou Belle is a gift shop owned by Lisa Komorowski and Dodie Wians, and it features local artisans who make items such as clothes, candles, jewelry and ceramics.  Wians said that they "try to buy from companies that are ethically run," and find artisans at art fairs, online, at gift shows in New York and Atlanta and have artistisans come to them.  
Their love of cute things is what inspired them to start LouLou Belle.
"We started it because we love cute things and we love to share our finds with other people, so we started this business and it's kind of morphed into what it is now," Wains said.  "It used to be more furniture, we used to hand paint furniture, we don't do that much anymore.  So we kind of listen to our customers and bring in what kind of products they're asking about."
Once the pandemic began, though, LouLou Belle had to change significantly. 
"At the beginning, when Covid first started, we were closed for almost three months, so we had to think quick and we took pictures of our products and put it online," Wians said.  Those items were available for both pickup and delivery.
Supply chain issues also had an effect, although not huge, on their business.  "Maybe 10 or 15 percent of our orders didn't even show up because of the problems," Wians said.  
She added that, although they mostly buy from small artisans, those artisans had difficulty getting all of the items they needed to make their products, which would then create a domino effect and affect how many of those products LouLou Belle had in stock.
Wians emphasized how supportive customers in this community were during the pandemic and now.
"They showed up.  And they keep shopping, and they shop small, and we have so many people that live around here that just walk to us," Wians said.  "Some people come every single Saturday; they get their coffee at Redbird and then they come over and shop…having that connection with your customer base is amazing."
Customers are not the only people who help small businesses thrive, though.  Wians said that small businesses need and support each other, especially through the Homewood Business Association.
"Most of us stores are members of it, and there's some service industries that are members of it, and we get together once a month and have meetings, and we plan, and we pool our resources so that we can do advertising and that sort of thing," Wians said.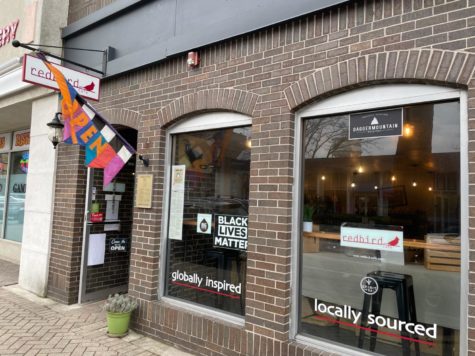 LouLou Belle is not the only business that had to change dramatically to adjust to the pandemic.  Redbird Cafe, owned by Kim Nolen, had to close its indoor dining due to the pandemic and opened a market instead, which is a permanent change.
Nolen described Redbird as a "locally-sourced, globally-inspired, farm-to-table cafe" and market that offers a wide variety of coffee, tea, bottled cold drinks and seasonal foods with many vegan and vegetarian options, most of which is organic.
Nolen was inspired to start Redbird by a couple of things.  
"One is I've been interested in food and health and what it does to us for a long time, and I have a long-standing appreciation for just cooking good food," Nolen said.  "And then, looking at where there were holes here, in my opinion, in our community, I felt like Redbird could fill that hole, one of them."
Once she found the inspiration to start Redbird, though, she faced some challenges along the way.  
"One was just getting product together, getting people together, getting the word out…Once the space was together, I gotta find out from farmers where the food would come from, and other food sources," Nolen said.
Although these businesses are different, they both agree on the importance of customers supporting small businesses, especially in the context of the pandemic.
"It's crucial-whether it's my business or any other small business, it's critical for the community to support us," Nolen said.  
Wians said that "we wouldn't be here without them."