Students earn National Merit awards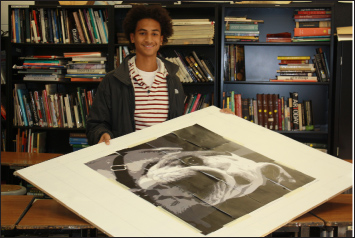 Senior Jordan Kouassi didn't have to look far for inspiration to work hard in school.
He says his father is an immigrant from the Ivory Coast in Africa. When he arrived to America, he worked extremely hard to achieve his success.
That hard work paid off for Kouassi and several other seniors who were rewarded for their performance on the PSAT taken in November of 2013.
"I took the SAT a couple of times before, and I've worked very hard over the last few years because I've received a lot of homework from my I.B. classes. This all prepared me a lot," Kouassi said.
The PSAT (also known as Practice Scholastic Aptitude Test)  is a test that is normally taken by students in their junior year in preparation for the actual SAT.
The PSAT consists of the same subjects that are tested in the SAT such as Critical Reading, Math, and Writing.
If students test exceptionally well on these standardized tests, it helps them gain recognition from colleges, and it even awards some students with scholarships.
Many people who have performed exceptionally well on the test are highly motivated and driven in school.
"I work hard, do all of my homework, study hard for tests, and try to go above what I normally do," senior Victor Ibe said.
Senior Joel Osei  says he is also very ambitious.
"My expectations of myself are really high. I expect to do big things in the future like becoming a computer engineer, inventing something, and working for a big company," Osei said.
Whitney George said she sets high goals for herself and tries to improve all the time. She also wants to have a career in the medical field, specifically,  in family medicine.
Gita Connolly also puts forth a lot of effort in school and gives nothing short of her best.
"I'm really motivated. I finish all my homework and put in 100 percent all the time and focus in class. I also have extremely high expectations of myself because I know that I have the capability to do a lot," Connolly said.
She also mentioned that she wanted to make a change in the world and build a school for girls in India just like Malala Yousafzai did in Pakistan.
Victor Ibe, Al Collier, Austin Grandison, Michael Morrow, Joel Osei, Reginald Peacock and Jaron Perry were named 2015 National Achievement Program Outstanding Participants Referred to Colleges.
There were also approximately 1,600 African American seniors designated semifinalists in the 2015 National Achievement Scholarship Competition. Colbie Cook, Whitney George and Jordan Kouassi were all semifinalists.
Gita Connolly, Jacob Fontana, Mia Guzynski, and Marcus Mangel all placed in the top 5 percent out of 1.5 million people who took the PSAT. They were all entitled commended students and are receiving a National Merit Scholarship award.
Many of National Merit Scholars from H-F were well prepared for this test by taking rigorous courses and by having practice with the PSAT.
Colbie Cook especially had a lot of preparation for the PSAT.
"I studied, especially in the math section, went to PSAT classes, got a tutor, and paid more attention in my math class," Cook said.
In addition to having practice with standardized tests and getting tutoring, having a good test taking strategy is also essential.
"Read the instructions first. If I don't understand what the question is asking, I look at the answers and work from there," Peacock said.